This is a common opinion among IT managers today. In this post, we will discuss and compare on-prem costs vs. cloud from a more holistic perspective.
We talk with a lot of customers in our outbound sales activities and two of the most common opinions about the cloud is that it is not secure and it is more expensive. We will cover the security aspect in another post and focus this one on the cost part of cloud vs. on-prem.
Is cloud more expensive than running a datacenter on prem? It is not a simple question to answer and there are no generic answers, it depends on a number of factors and the comparison is not a simple task. Several factors needs to be taken into consideration. However, the fact that the majority of the IT managers we talk to consider cloud more expensive shows that the market is still in its early phase.
When asking a couple of follow up questions, it turns out that the comparison often consists of comparing the cost of a server with a similar specified workload in the cloud. That is a too simplistic comparison and the cost of a server needs to be put in a wider context of IT cost structures. When buying a workload from a public cloud provider, a lot of things are included in the cost such as:
Facilities
Electricity
Cooling
Support team
Insurances (business interruption)
Decommissioning, migration and disposals
Capacity planning headroom
Inflation
Discount rate (Internal Rate of Return)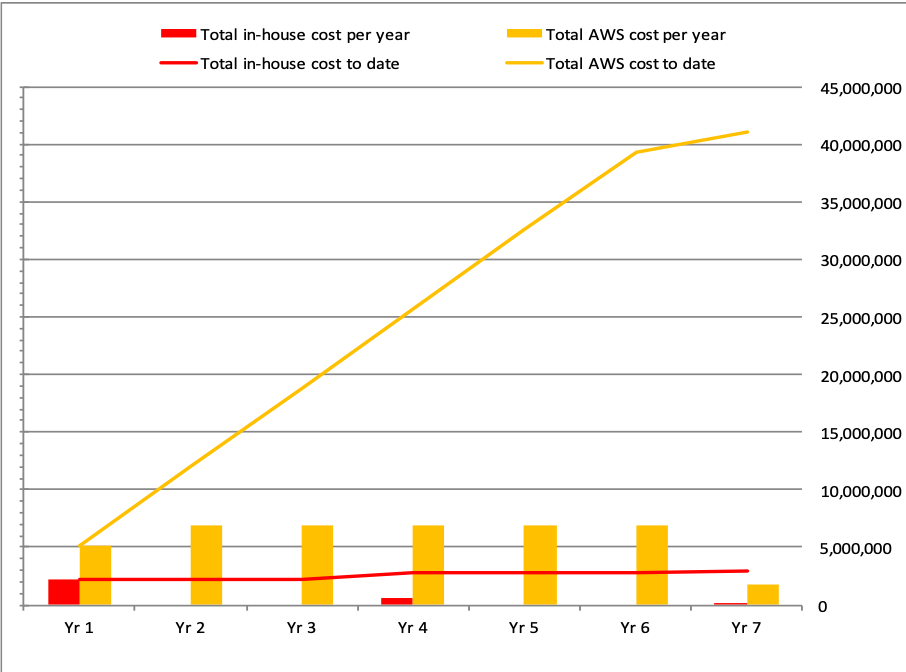 A typical comparison of server costs (red) vs. cloud workloads (yellow). Cloud turns out to be much more expensive
Source: AWS Cloud Economics
A full cost comparison between a datacenter and cloud shows a different picture. Cloud is usually between 30-50% less expensive.
Source: AWS Cloud Economics
Even if a server is cheaper than a similar specified cloud workload, cloud is still more cost efficient than running a datacenter when considering all related IT costs.
Besides lower costs, there are other financial benefits for an organization to move to cloud, for example tied up capital and cashflow.
Cloud providers practice a subscription based business model which means that customers do not need to invest in infrastructure. Almost every organization today have infrastructure which is treated as inventories and an asset in the company balance sheet. The capital tied up in infrastructure could be used for more revenue generating capital investments instead of taking on more debt. There are also rumours around the accounted value of infrastructure assets. Some argue that as cloud providers continue to gain market share, infrastructure in datacenters will be valued less in an event of a financial audit. I can't find evidence that proves that such a valuation is in practice but it doesn't seem unrealistic in the future, outdated technology are simply valued less.
From a cashflow perspective, cloud services do not require any upfront investments such as refreshments of infrastructure or software which will have a positive impact on cashflow.
To summarize; yes, a single server is usually cheaper than a similar workload in the cloud but from a holistic perspective, taking all costs into consideration, cloud is much more cost efficient. According to our own experience when engaged with customers, we find potential savings of around 30-50%. Combined with capital and cashflow benefits, all companies should evaluate a transition to cloud.
Besides costs, another common opinion about The Cloud is that it's not secure. Read Kennet Wahlbergs blog post "Is The Cloud secure?".