Many companies are under tremendous financial pressure due to the COVID-19 virus. We sat down to figure out what we can do to help and came up with 4 ways of how we can reduce cost and increase liquidity in the short term for a company. We are posting these 4 ideas in a blog series and in this blog post, we will present the third idea to improve your financials – automate your incident handling.
#3 – Automate your incident handling
This third tip of reducing cost and increasing liquidity only apply for organizations already running workloads in AWS. However, if you're interested in our first tip, move to cloud instead of replacing servers which is due for refreshment this year, this apply for you as well.
Incident handling is often a highly manual process in most companies. It requires 1st, 2nd and 3rd line resources in a service desk to manage error handling of the applications, databases and infrastructure. Further more, some expert forum, or Change Advisory Board, are usually in place to work with improvements to reduce tickets and incidents. A lot of people is required just to keep the lights on.
What if you could set up monitoring alerts that automatically triggers automated processes and resolves the incidents before the users even notice them and place a ticket to your service desk. Sounds like science fiction? Check out Max Koldenius TIQQE Talk about AutoOps.
Let's put some numbers on such a scenario.
Example – a company with 1000 incidents per month
In this example, we have a company with 1000 incidents per month. We assume an average cost of 156kr for handling an incident which is based upon a public report of service desk costs.
We're comparing the manual cost with an automated incident handling service from us. We're practicing automated incident handling in our own service desk and we're currently managing 90% of all incidents by automation. In this example, we assume a 70% automation potential.
Year 0 represents the investment year and in this case it includes an incident analysis and the setup of the service, a total of 80kSEK.
This company would have a yearly cost of 1.9MSEK for manual incident handling. They would need to invest 80kSEK to enable automated incident handling and would then have a yearly cost of 768kSEK for the automation service from us. The accumulated cost for manual incident handling would be 11.2MSEK over 6 years compared to 4.7MSEK for the automation service.
The graph below shows savings per year and accumulated savings. This company would save 1MSEK the first year and 1.1MSEK per year the following years. The return on investment in this example is 5.4 months. The accumulated savings equals 6.5MSEK in 6 years, or 58%.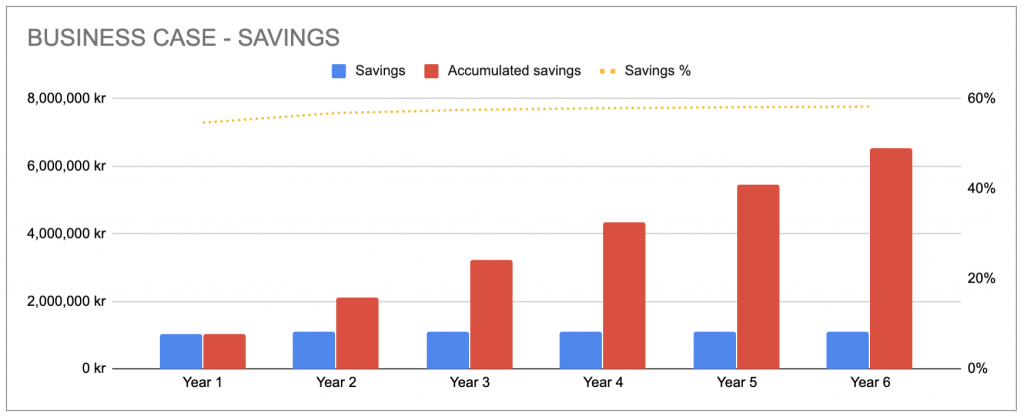 There are of course a lot of ifs and buts in any calculation and the numbers are just interesting if you can identify yourself in them. We have created a template for helping companies calculate a comparison between manual and an automated incident handling service from us. We can customize most of the data to simulate your specific prerequisites to make it as accurate as possible.
Please contact me or any of my colleagues if you would like to do the exercise for your company, we're here to help.
Stay tuned for more examples of how we can help you reduce costs and increase liquidity.